2024 OFFICIAL RULES AND REGULATIONS
TOURNAMENT DIRECTOR: Jamie Lindseth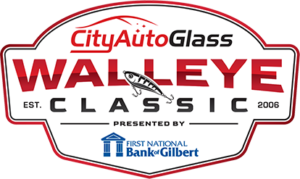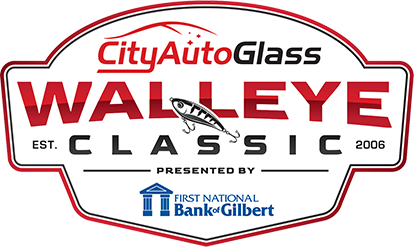 1. TOURNAMENT RULES:
The City Auto Glass Walleye Classic, produced by The CAG Foundation, will be held on Saturday, May 18, 2024 from 7:00 AM (CDT) to 3:30 PM (CDT). Prize pay-outs will be awarded immediately following the tournament. This fishing tournament has been authorized and permitted by the Minnesota Department of Natural Resources. All participants must comply with all terms and conditions of the permit (copy available upon request). All participants must comply with all Minnesota boating and fishing laws and regulations, including any special rules applicable to Lake Vermilion, along with the following rules:
A. The City Auto Glass Walleye Classic is restricted to Lake Vermilion. Tournament weigh-in will be located at Fortune Bay.
B. Winners will be determined by total weight of up to six (6) walleyes caught by a team within the tournament time. A qualifying team's catch will be weighed and recorded by the tournament judges at the tournament weigh-in site when each
team returns. The team with the highest total registered weight will be ranked number 1 and declared the winner of the first (1st) place prize. The team with the second highest total registered weight will be ranked number 2 and will be declared the winner of second (2nd) place prize, and so on.
C. A team must have two (2) persons and must fish from the same boat. One (1) team per boat. Entry fee per team is $500.00. Each team member must sign an official entry form in order to participate in the tournament.
D. Rules & registration meeting is on Friday, May 17, at 6:00 p.m. at Fortune Bay. Team Check-In begins at 4:00 p.m. in the ballroom.
E. Both team members must attend rules meeting.
F. Teams 1-125 will depart in numerical order beginning at 7:00 AM on May 18, 2024 from the Everett Bay narrows. Teams 1-40 will return at 3:00 PM, teams 41-80 at 3:15 PM and teams 81-125 will return at 3:30 PM. At take-off, any boat leaving out of numerical order and AHEAD of their assigned position will be penalized 25% of their catch weight.
G. All boats must be checked in by a tournament official before the start of the tournament at tournament headquarters.
H. All storage compartments and live-wells must be accessible to tournament officials prior to tournament start.
I. All boats must depart from official tournament headquarters at designated flight time in numerical order. Boats will take off one by one and will receive the "go ahead" from the start boat.
J. Six (6) walleye per 2-person team. No walleye less than 12 inches will be weighed, nor will a dead walleye. However, these fish will count against a team's 6-fish total. No more than two (2) walleye over 26 inches will be allowed per 2-person team. If more than two (2) walleye are brought to the scales that exceed 26 inches, the team is disqualified. No fish between 20 and 26 inches can be weighed due to a protected slot. A violation of this rule will result in disqualification.
K. No alcoholic beverages may be consumed during tournament hours. Violation will result in disqualification.
L. At no time during tournament hours is a contestant to leave their boat unless you return to tournament headquarters and permission is granted by a tournament official. Use safe judgment during inclement weather. If there is a need to clear the lake, the fishing tournament will resume when the tournament director deems the lake safe.
M. When returning at your scheduled time, each boat must pass in front of the start/finish boat and display your boat number to the start/finish boat to signify you are in. Check-in is mandatory, fish or no fish!
N. When returning at the end of the tournament, any team up to 15 minutes late will be penalized 50% of their catch weight. Any team more than 15 minutes late will be disqualified.
O. Only fish brought to scale in official fish bag will be weighed. Fish left in boat cannot be retrieved. Fish may not be placed on a stringer.
P. A protest of any kind must be filed with the tournament director before the weigh-in is completed. A $200.00 fee is required: refunded if found to be valid. A protest committee will consist of two (2) tournament officials and three (3) randomly selected contestants. The committee findings are final. If the committee recommends a polygraph test, moneys will be withheld until the results of the polygraph test are known.
Q. The violation of any rule, as determined by the judges in their sole discretion, shall result in automatic disqualification from the tournament and ineligibility for prizes or awards. All
judges' decision will be final and may not be challenged.
R. Promoters, tournament directors, organizations, and sponsors are not responsible for death, injury, damage, liability, theft, fire, or loss of any kind to entrants.
S. The City Auto Glass Walleye Classic reserves the right to refuse entry to any individuals who have been barred or disqualified from any tournament for rules violations.
T. No underwater cameras will be allowed during tournament hours.
U. Each angler must have a valid MN fishing license.
V. Pre-fishing must be concluded by 4:00 PM Friday, May 17, 2024.
2. ENTRY FEE:
The entry fee for the tournament is $500.00 per team, and is nonrefundable.
3. PREVENTING THE SPREAD OF INVASIVE SPECIES:
A. Prior to entering Lake Vermilion, all water craft that have been in waters known to be infested, which presently include the Mississippi, St. Croix, and St. Louis rivers, and St. Louis Bay in Lake Superior, must be thoroughly dried both inside and out.
B. Participants must clean all lake weeds from trailers and water craft, including wet wells and other internal locations, upon leaving the lake.
C. All live bait must be disposed of before leaving the access.
D. All participants are encouraged to have their boats inspected and/or washed at a Vermilion Lake Association check point. Upon successful inspection, anglers will be given a release form to be turned in Friday night at the team registration table.
4. INSURANCE:
All contestants using their boat in the City Auto Glass Walleye Classic must show upon request a certificate of insurance or a "paid in full" current boating liability policy with a minimum value of $300,000. Waivers will not be accepted.
5. PERMITTED FISHING LOCATIONS:
A. Contestants may fish anywhere accessible by boat, except designated federal, state, or local posted or permitted areas.
B. All angling must be conducted from the boat. At no time may a contestant leave the boat to land a fish or to make the boat more accessible to fishing water. The boat must remain in the tournament water during the tournament day. Contestants must leave and return to the official checkpoint by boat, and must remain in contact with the boat at all times except in case of emergency.
6. OFFICIAL CHECKPOINT POLICY:
Fortune Bay will be the official checkpoint. This location will include boat inspection, departure in the morning, and check-in in the afternoon. Any violation of this policy will result in immediate disqualification.
SAFETY:
A. Each competitor must observe safe boating conduct at all times.
B. Each angler is required to wear a U.S. Coast Guard approved chest-type life preserver which is fully secured whenever the main combustion engine is running.
C. All competitors must have an emergency ignition shut-off device securely attached to the driver's body whenever the combustion engine is in operation.
D. All boats must be a minimum of twelve (12) feet in length. Pontoon boats are acceptable, provided the pontoon boat has a working live well. No barges or other cumbersome craft will be permitted. Each boat must have all required U.S. Coast Guard safety equipment.
E. Use of and/or possession of alcohol or drugs (other than prescribed by a licensed physician, or purchased over the counter) during the Tournament is prohibited and will result in disqualification.
F. The Tournament Director retains the right to delay, cancel or restrict Tournament waters in the case of severe weather.
G. The Tournament Director reserves the right to disqualify the use of any boat and/or motor he deems unsafe, inappropriate, or unsuitable for use in competition. The Tournament Director's decision in this matter may be made at any time and is final.
7. SPORTSMANSHIP:
A. All contestants are expected to follow high standards of sportsmanship, courtesy, safety, and conservation. Any infraction of these fundamental sporting principles may be deemed cause for disqualification.
B. Maximum courtesy must be practiced at all times, especially with regard to boating and angling in the vicinity of non- competitors who may be in Tournament waters. Violators of this rule will be disqualified.
C. Any radio communication (broadcasting or monitoring) during Tournament hours, except in cases of equipment breakdown or for safety reasons is prohibited. Violation of this rule could result in disqualification.
The Everett Bay narrows are a NO WAKE ZONE for tournament anglers. The tournament start location and end-of-day check-in location are both the Everett Bay Narrows.
For safety reasons, all tournament participants must travel at low speed through all narrows and congested areas.
All walleye from 20″ to 26″ must be immediately released. Each two-angler team may weigh a maximum of 6 walleye…no more than two can be over "26. No culling once 4 fish limit per angler is in possession.
                               Emergency phone number BEFORE 1:00 PM  is 218-780-0901
                             Emergency phone number AFTER 1:00 PM  is 218-966-3866